Real-Time Slot Selector - Time Slot Picker Utility
Feature Overview
The RTRT Real-Time Slot Selector Tool is a platform add-on which allows events to query and collect scheduling data from a variety of contacts - participants, volunteers, vendors, etc.
USE CASE : The Real-Time Slot Selector is the ideal way to even out the flow and avoid backups. Visitors get real-time status to see how exactly how busy each time will be, allowing them to avoid the crowd. A steady flow of visitors means that admins will feel less pressure while processing Expo Packet Pickups, Vaccine Verifications, Credential Checking, Staff Check-ins, etc. Used by major events like the Boston & Houston Marathon, this utility is yet another RTRT innovation designed to help you elevate the event experience.

How it works
Real Time Advantages
Administrators have the ability to create and customize time slot durations and caps.
RTRT in-platform connection tools allow for email communication to all required contacts
Contacts can self select and manage the process from web or in-app
The portal allows for Real Time feedback on available slots and expected volume
Participants can return to check on estimated time slot availability, make updates and access live usage predictions
Time slots selected by contacts appear in roster records as a manageable field.
Administrators Dash for monitoring.
Create sharable View Only links for additional, non Admin stakeholders (See sample below)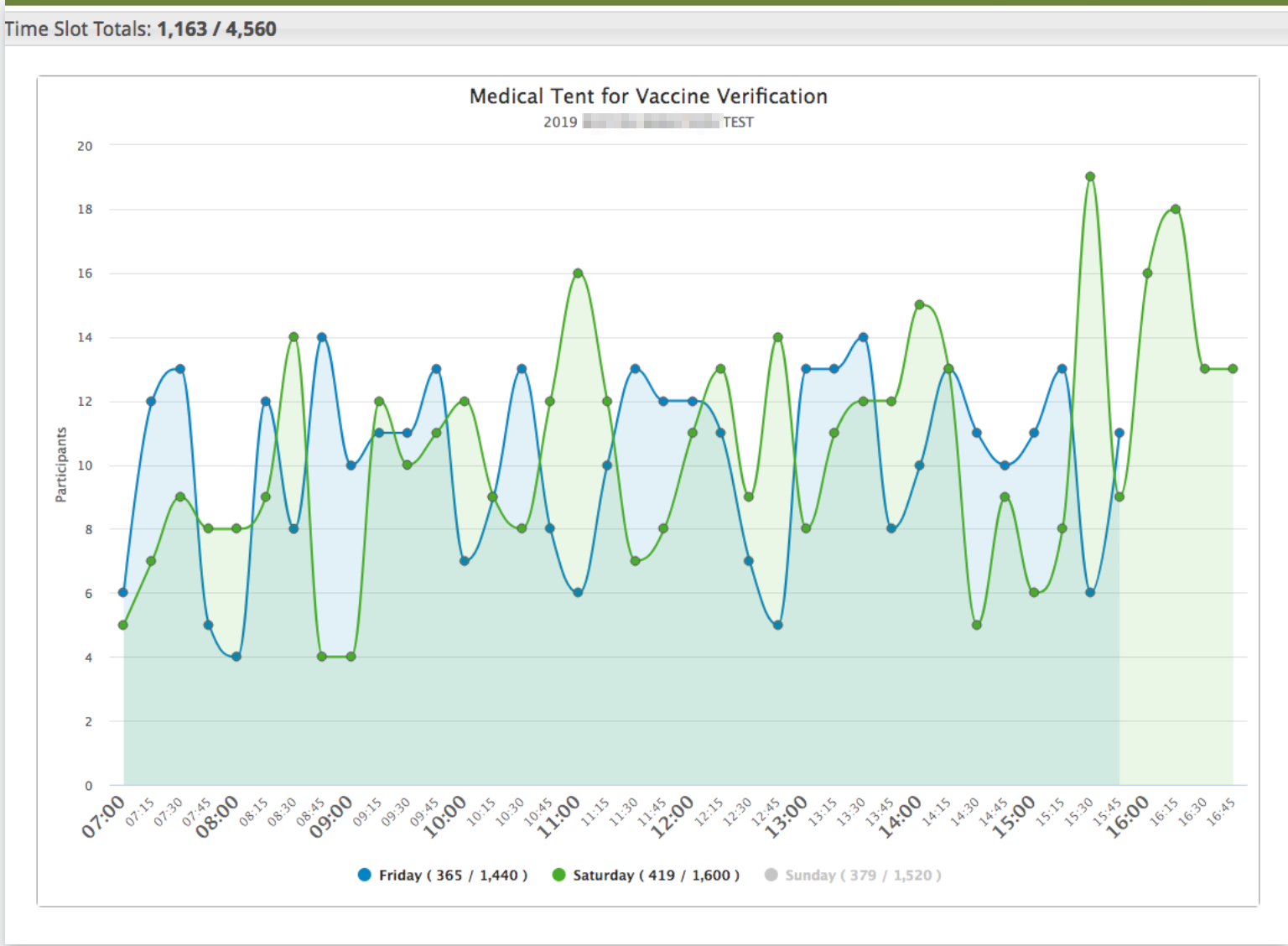 DASH VIEW: Above image represents 15 minute increment time slots over 3 day event.
HOW can I use this feature?
Work with your RTRT provider to establish event needs and for a pricing quote

Configure and enable the corresponding RTRT.me Time Slot tools

Upload the event roster or contacts into RTRT.me
Compose and send emails requesting time slot selection. Start with one of our existing templates to help with the email composition and to generate the custom URLS for each participants selection page.
For more information about the RTRT.me Real-Time Check-in solutions, please contact us at https://rtrt.me/contact.
Comments (1)
Here is a visualization of the messaging customizations can be done.