Feature Overview
Create memorable moments and buzz-worthy photo ops by activating the Interactive Kiosk by RTRT. Interactive Kiosk provides a way for Event Managers to showcase event graphics, engage supporters, highlight sponsors, and show individual finisher results via onsite displays. Participants interact with the kiosks by quickly searching (or hands-free QR bib scanning) and immediately seeing a personalized board appear. The board is displayed on the kiosk but can also be cast to one or more larger displays giving the participant an exciting Your Name on the Big Screen experience that doubles as a really cool backdrop for a snapshot.
HOW IT WORKS
Admins create any number of display 'Boards' using our Interactive Kiosk Editor by uploading backdrop images, arranging layers of additional graphics, elements, and text with dynamically populated values for the participant interacting.
Set up the Interactive Kiosk stations and Board displays to engage your audience onsite.
Watch the fun as participants & supporters interact and pose next to the displays.
FEATURES
Interactive Kiosk Board Editor - Simple design tool for building boards suitable for landscape or portrait orientation.
Highly Configurable - One Screen Kiosk or use dedicated Kiosks plus display Boards. Plenty of choices available such as using one device or multiple screens, plus neat tricks like being able to direct output from a single kiosk to multiple screens.
Hardware Flexibility - Use any hardware such as tablets, laptops, chromebooks, TVs, LED screens, and smartphones through the event app or web browser. For scanning, use built-in or external cameras, or handheld USB QR / barcode readers.
Board Selection Options - When several Boards are available, the participant can be prompted to select which board they want to display via a thumbnail preview or the Kiosk can automatically pick based on the race (ex: 5k board, 10K board), at random, or pre-configure a kiosk station to always use the same board.
Hands Free Kiosk Lookups. - Bibs with QR or barcodes can be scanned and the board can display without any device touches. Manual lookups via name or bib is also available when QR codes are not in use.
Reg Checkin Utility Integration - Assign facilities in Reg Checkin to Interactive Kiosk boards to display a board when a participant is checked in at that location.
Queue Mode - Allow boards to be added to a queue that cycles on the desired interval.
Idle Image - Upload a static image or gif to show when nobody is interacting with the board.
NOTE: Internet is required for Board & Kiosk setups or for Single Device mode where post-race finisher data is part of the display board, since a lookup is needed to get the results or to broadcast the board from the kiosk to the other displays. One exception is that a pre-race Single Device kiosk can work offline temporarily since the participant data is loaded and cached locally.
SamPLE IdLE IMAGE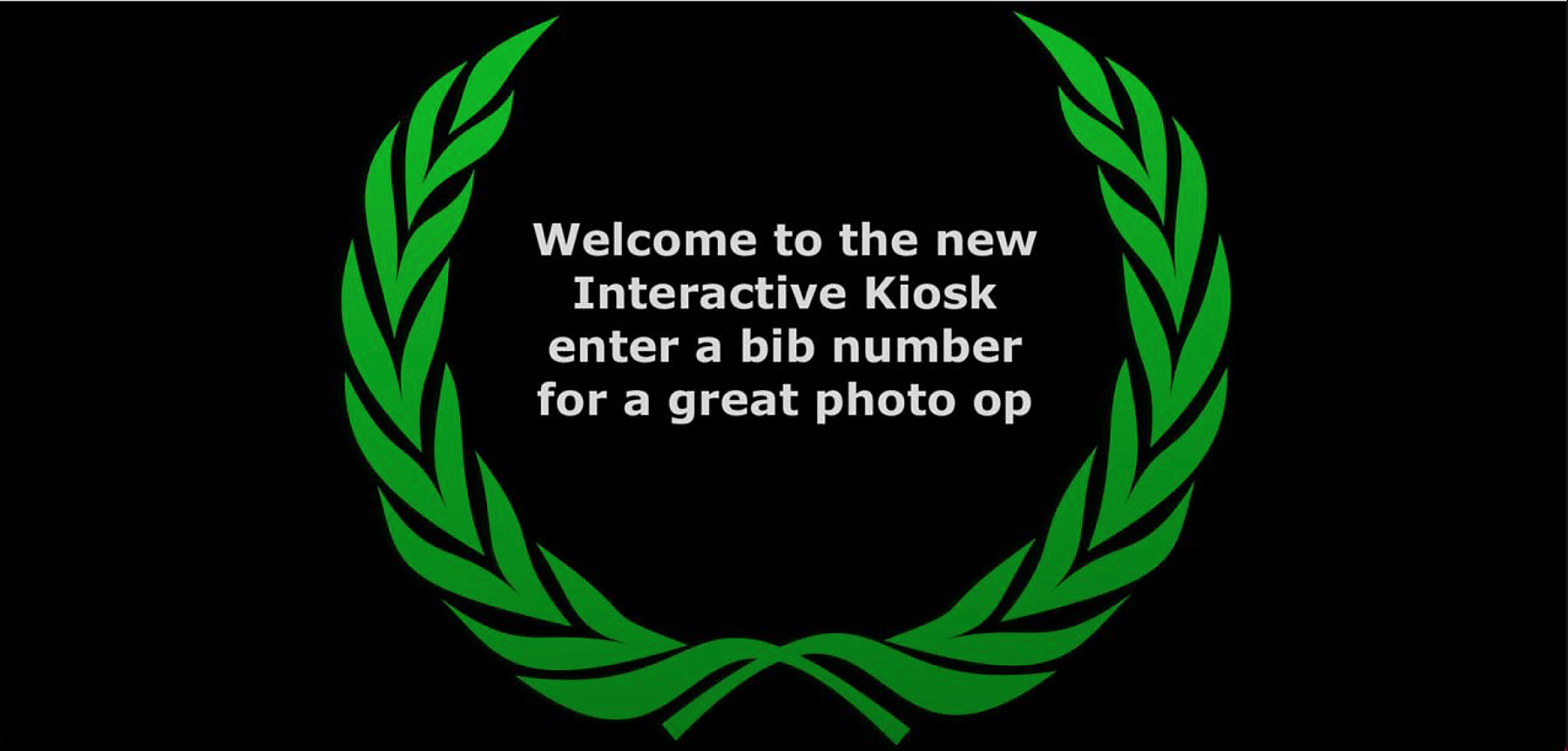 SAMPLE BOARD IMAGE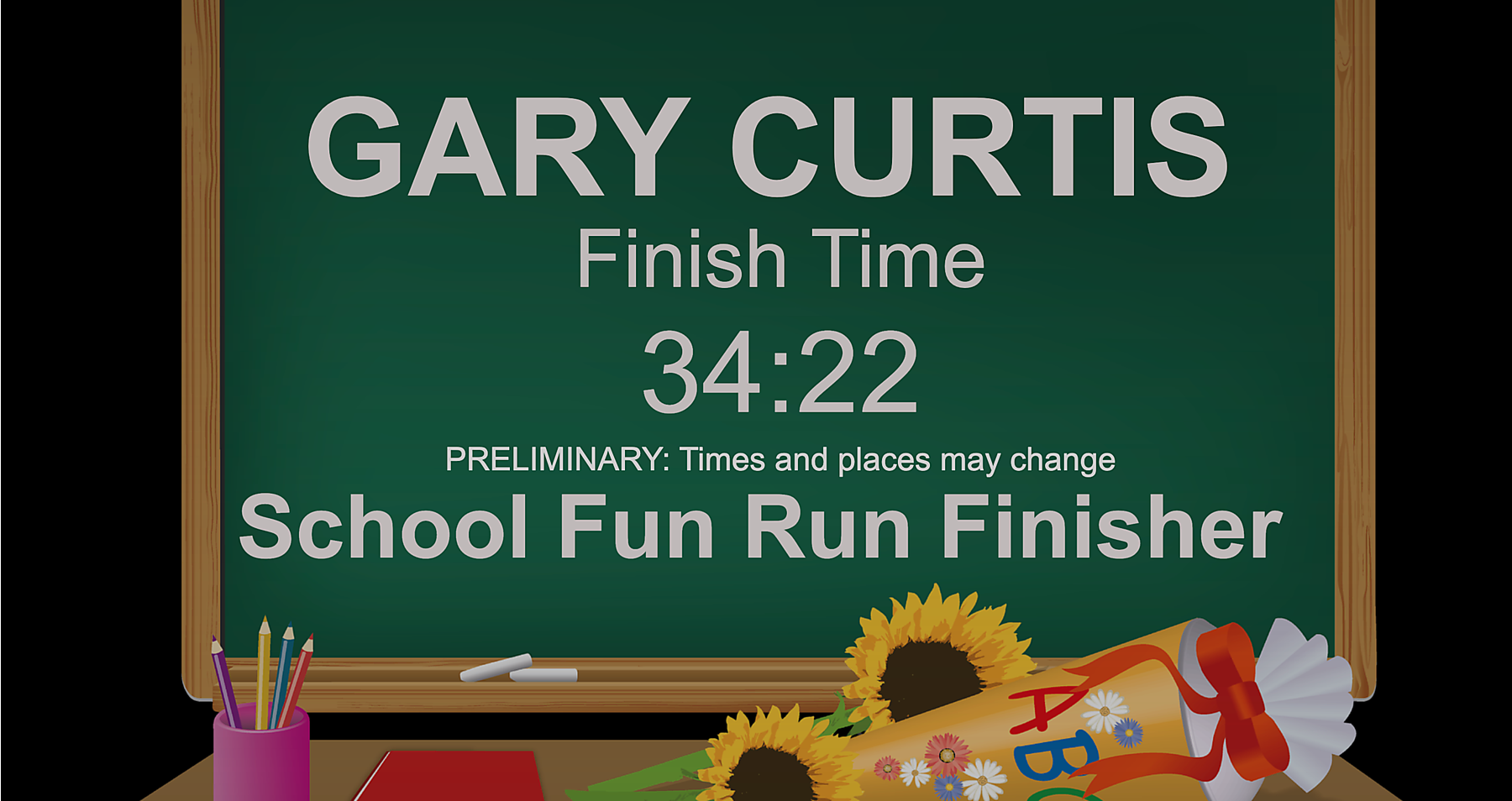 REal-Time Advantages
Engage and captivate participants and supporters onsite.
Create a cycle of positive feedback and social media engagement.
Intuitive, user friendly display for quick interactions. Keep the crowds entertained and moving.
How can I use this feature?
In Console, configure and enable the corresponding RTRT.me tools in your event console.

In event console under My Event > Select Event > Tracker Settings > Interactive Kiosk
Toggle On the feature to Enable it
Upload images and update design elements as needed (and be sure to Save).

Onsite, set up the kiosks using the event app or web tracker.

Load the Interactive Kiosk via the app or web tracker under Info > Admin Tools
Configure each client according to your setup requirements.
For more detailed Kiosk setup instructions, click here.
For more information about the RTRT.me Real-Time Interactive Kiosk please contact us at https://rtrt.me/contact.
Comments (1)
Usage count will now appear in Dash.