Real-Time Command Center with Heatmap
Feature Overview
The Real-Time Command Center gives event directors, course staff, and security & safety admins a high-level view of the event traffic flow.
HOW IT WORKS
RTRT uses all split data and each participant's estimates to calculate the position of every participant on the course every minute.
We then use this data to generate charts and to make a live heatmap.
Charts and heatmaps will update live during the race.
FEATUREs
PAUSE, REWIND, FAST FORWARD and use the SLIDER to review the heatmap and charts at different stages of the race.
Click LIVE to jump to the current time.
NOTE: After the race, or when there is a long gap in timing, LIVE will say LATEST instead.
SHIFT-CLICK and Drag to draw a box around a particular area to see a count of participants within the bounds.
CYCLE: This option displays a 'weather map' style animation of the last 15 minutes. This is the default mode during the race and will continually update to the most recent 15 minutes.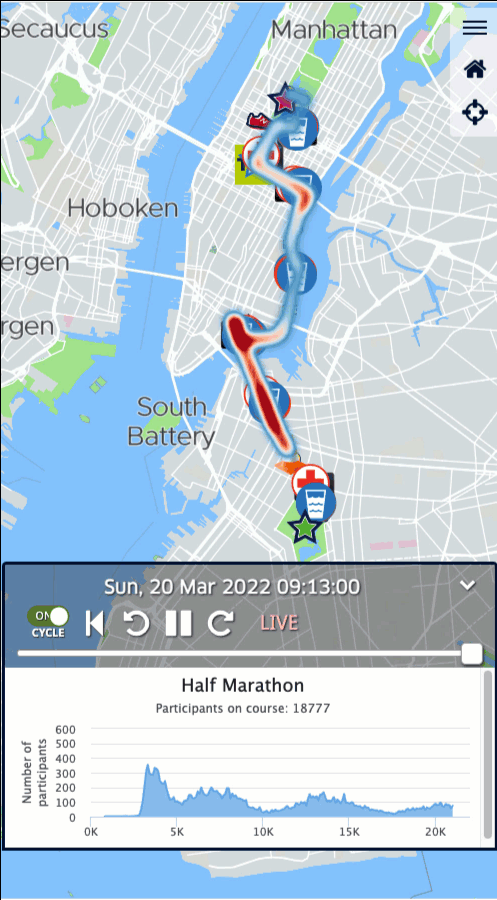 Post race, the event will play through from the beginning upon visiting the Command Center.
How can I use this feature?
When this feature is enabled, the "Command Center URL" link will appear in the Promo/Kit.
Please contact your RTRT Account Manager for more information on how to activate this feature.